The clothes make the man, and the bag tops the clothes.
Suits and formal garments travel and rest in the protection of these great quality garment bags. The fur or tuxedo within is a valued asset, show it off and make if fun with a selection of upscale and innovative options that will make their mark in people's minds.
The available materials and combinations are many, including:
Clear and opaque vinyl sipper covers
PEVA zipper covers
Leatherette Vinyl Zipper Covers
Non-Woven Garment Covers, breathable and water-repellent
Non-Woven Deluxe Covers w/4" Gusset & Handle
The Pinstripe Collection – In 3 Colors – Black, Navy, and Grey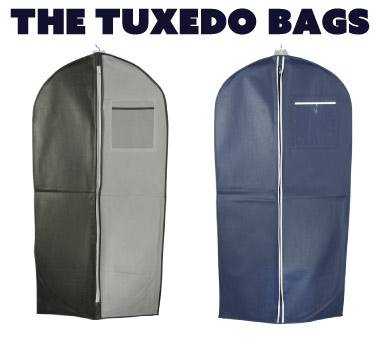 The Tuxedo Bags come in Black, Black/Grey, and Navy with White Trim on Zipper. Coming Soon: The Tartan Tuxedo Bag.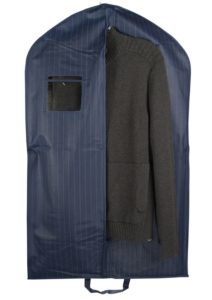 THE NAVY PINSTRIPE BAG
Dazzle with an array of colors and treatments that present your business in the best light, all printed with your store name, logo and other information. This is the way to wrap a wrap, tuck a tux, or seal a suit!